Scott Goold: Professional History and Background

#MeToo: Glenn R. Smith Conspiracy
Retaliation for Defending and Protecting Women
This is my #MeToo story. Some people ask why I post this now. I am seeking employment opportunities and recruiters research Google to learn more about me. The graphic at the top shows a "top line" result when one searches my name. This is the final chapter of a battle that began in 2007. For over seven years I stood up and fought for female coworkers who were abused and treated inappropriately. We won every challenge. The only case I lost was my own. To win, management had to cheat!

My employer, State of New Mexico Workers Compensation Administration, under Director Ned Fuller, fired me initially October 2011. I appealed to the EEOC and was returned to duty March 2012. My "resurrection" empowered coworkers and humiliated the new director. The agency isolated me and Director Fuller fired me a second time January 2013. To vindicate his earlier loss, he challenged my unemployment benefits. Against his army of about ten professionals, I stood alone. I told the truth. My supervisor did not.

My bureau chief immigrated from Ghana and completed his graduate work at Columbia University. Staff teased us about our extreme difference in height. I'm about 6'5". He's not as tall. I'm a former professional basketball player. He's a muscled soccer player. He affectionately referred to me as his "bodyguard" around the office.

Untruthful Bureau Chief, Richard Adu-Asamoah, PhD
On about Friday, November 30, 2012, I suffered an intense migraine. I came to my chief's office to request medical leave. He was on the phone and waived me in. I entered and turned to close the door. He jumped up and smashed into me to open the door. I don't know why. We had just finished a meeting in his office with the door closed. Shortly afterward, I notified HR I wanted the three of us to meet and discuss.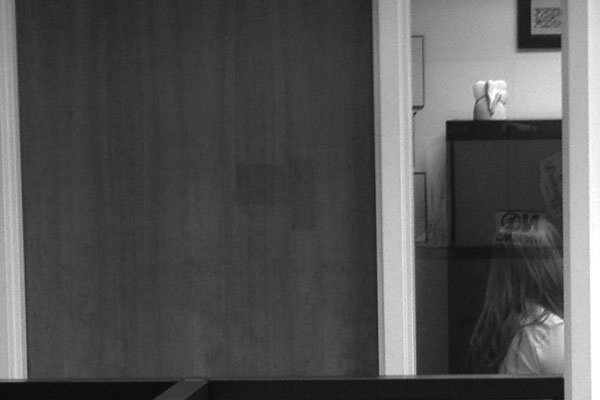 Coworker in Chief's Office with Closed Door
We frequently worked in office with door closed.
The bureau chief said nothing about the incident to his boss or HR that day, Saturday or Sunday. Although he met with the HR director an hour prior to our meeting on Monday, he said nothing about the incident to her. After I detailed what had happened, he came up with a different version. He claimed I had blocked the door and refused to open it when he asked. He smashed into me to open it.

The bureau chief and I agree he instructed me to return to my desk and email the request for medical leave, which I did two minutes later. I wanted to speak in person, as typing with a migraine is difficult, and he had assigned me to review a final draft of the Annual Report. I was unable to see clearly from my right eye so I found the latest version, sent it to the printer, left to pick it up, and found a vacant, dark conference room to lie down. I didn't feel competent to drive my vehicle due to the migraine. This is the full email exchange. Had I "blocked your door and refused to open it," would our conversation have been as friendly and casual? Doesn't add up, does it?
From: Goold, Scott, WCA
Sent: Friday, November 30, 2012 9:11 AM
To: Adu-Asamoah, Richard, WCA

Subject: medical

Richard ~
I have a very bad migraine and would like to leave for the day. Thanks!

---

From: Adu-Asamoah, Richard, WCA
Sent: Friday, November 30, 2012 9:14 AM
To: Goold, Scott, WCA
Cc: Adu-Asamoah, Richard, WCA

Subject: RE: medical
Importance: High

That's OK, Scott. Please give your corrections for the Annual Report to Diana before you leave. Thank you.
RAA

Richard Adu-Asamoah, Ph.D.
Bureau Chief, Economic Research Bureau
New Mexico Workers Compensation Administration
Ph: (505)841-6044; Fax: (505)841-6866
E-mail: Richard.Adu-Asamoah@state.nm.us
The agency used this incident to terminate my employment, "At approximately 12:03pm you approached Mr. Adu-Asamoah's office and handed him your suggested corrections ... Your failure to advise Mr. Adu-Asamoah of your whereabouts on Friday, November 30 is insubordinate. You requested to leave the office on sick leave and, without informing management, you worked in an alternate location." Director Fuller would have preferred me to operate a vehicle while impaired where I might hurt or kill someone. Welcome to New Mexico!

There was confusion. Had the bureau chief allowed me to speak in person this might not have occurred. My chief first told me not to leave UNTIL I finished the review. Then he told me I could leave but requested the review as soon as possible. Facing two sets of instructions, I sought an "improvised" solution and completed the assignment as quickly as possible. Rather than applaud me for performing admirably under difficult conditions, Director Fuller used the confusion created by my supervisor to fire me. I believe he was looking for reasons to terminate me due to my history protecting female coworkers.

The Unemployment Insurance administrative law judge said this was a "he said/he said" situation and he believed the chief. Our family lost over $14,000 in benefits while unemployed in a difficult economy. This demonstrates the contempt Director Fuller harbored toward me. He took every penny he could from us. I appealed and the New Mexico District Court in 2014 affirmed the earlier decision.
Battling a Giant
In many cases, I stood alone with one or more troubled coworkers. Few listened to our calls for help. It's a lonely path and management pounded us with an army of attorneys, specialized professionals and career staff to thwart our efforts. For all of us and our families, there were countless tears and endless fears. Famous privileged Hollywood women refused to come forward sometimes for decades — the price for demanding fair and humane treatment is high. How can ordinary people battle a giant?

The women I assisted prevailed. I became management's target. I first lost a promotion and then my career. This cost our family more than an estimated $500,000. Employers now consider me a "trouble-maker." NFL quarterback and protest leader, Colin Kaepernick, knows the toll for Taking a Knee. No owner allows him to play today. Who volunteers for such a role? This is the reason why only a handful step forward. I share this story to SHAME those who frustrated our efforts in hope our sacrifice motivates others to Rise UP. Momentum has changed and KARMA is a witch!
"Life's most persistent and urgent question is, 'What are you doing for others?' "

Martin Luther King, Jr. — Montgomery, Alabama in 1957
New Mexico Workers Compensation Administration (WCA) Director Glenn R. Smith conspired with Priscilla Pena-Johnson and Laura Feight to obstruct my career — because I served in the union and championed my female coworkers. This illegal and unethical behavior continued during the term of Director Ned S. Fuller. I served as an Advanced Economist in the Economic Research Bureau and produced WCA Annual Reports and other research projects; provided policy recommendations on the prescription drug opioid epidemic; designed the agency's annual Medical Fee Schedule; and developed PHP/MySQL databases and applications. My work contributed to taxpayer savings estimated at hundreds of thousands of dollars and made government more efficient. I document herein how MANagement obliterated my career for protecting mistreated women.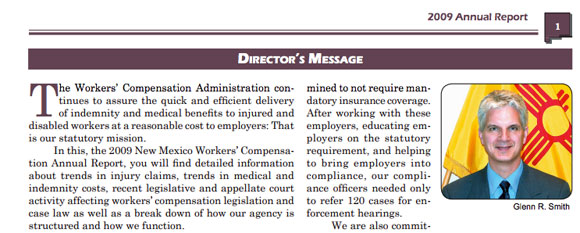 Glenn R. Smith, Attorney at Landry & Ludewig, LLP, Albuquerque, New Mexico
In March 2006 the WCA hired me as an Operational Economist. I quickly became a shooting star — Director Alan Varela awarded me Employee of the Month in January 2007. The director told me I was the first employee to receive this honor during the probationary initial year (WCA PIO Van Cravens reported this incorrectly on public announcement). When Director Varela's term expired, he had this to say:
From: Varela, Alan, OWTD
Sent: Wednesday, January 03, 2007 4:18 PM
To: Goold, Scott, WCA

Subject: RE: Thank you!!!

Scott,
Thank you for the note. You are clearly a huge asset to the WCA. If I could clone you and hire twenty of you at this Agency, I'd do it tomorrow! Take care and always know that you can call on me if I can ever be of service.

Sincerely,
Alan
I worked closely with legal secretaries and paralegals in the WCA's judicial group. Chief Judge Greg Griego neglected the all-female team. They suffered in an abusive cauldron of high stress and chaos. Members pleaded with staff to help them. Although I had never been in a union, I heard their cries for assistance and joined.

About May 2007 director Glenn R. Smith appointed Chris Berkheimer, who had served as a mediator for the WCA, as a Workers compensation judge for an initial one-year term, effective May 5th. Six days later, Berkheimer was placed on administrative leave for sexual harassment. This exemplifies how female legal staff suffered. It was a predatory and abusive environment. Berkheimer, a candidate for the New Mexico House of Representatives, was recently jailed. (source)
A Culture of Abusive Behavior
The women on the WCA judicial team were compensated as "basic" or "operational" employees, although they performed "advanced" duties. I completed a fiscal analysis and presented findings to both Griego and Smith. Griego ignored my requests for fair pay. Director Smith denied ... and repeatedly denied me. I didn't quit. I persisted. After four years of work, newly-elected Republican governor, Susana Martinez, appointed Ned S. Fuller as director, and he granted our request. (Victory Letter to Union) Although the WCA ran a financial surplus in those years, Glenn R. Smith refused to compensate and treat women fairly. The Business Operation Specialists (BOS) are another example. Studies suggest women are paid about 75 percent of what men make in similar roles. These employees were All women; the WCA expected them to perform advanced duties but compensated them at the "basic" level. As they worked in offices dispersed across the state, coordinating our efforts was difficult.
From: Goold, Scott, WCA
Sent: Friday, October 29,2010 8:30 AM
To: Duran, Sarah, WCA; Quintana, Stephanie, WCA; Sanchez, Virginia, WCA; Medellin, Melinda, WCA; Determan, Gloria, WCA; Borrego, Evelyn, WCA

Subject: Reclassification of BOS position

Dear Sarah, Stephanie, Virgie, Melinda, Gloria and Evelyn

I hope your fall is going well. Our year seems to have flown by! As your union representative, I wanted to keep you updated on work we are doing to assist our members. I have been assisting the Legal Secretaries in Dispute Resolution because they are "under classified." They are expected to do advanced work yet are only classified and compensated as "operation" employees.

In this process, it was brought to my attention that ALL of you are listed as "basic" employees yet we know you are expected to perform at a much higher level. (source)
There was a culture of bullying in the WCA at that time. Sexual harassment isn't about sex. It's about power and many managers (male and female) treated subordinate female employees inappropriately. As we're aware today, few want to stand up. They fear for their jobs and career. Who would believe them? I did.

In 2009 I assisted women in the Employer Compliance department. The agency awarded them Bureau of the Year in 2008. Their respected manager departed and Director Smith appointed a new chief who was abusive to staff. The group fell apart. We initiated grievance procedures in 2009. The matter ended up in arbitration and the female employees prevailed in 2010. (download truncated version)

I wasn't as lucky. In my professional opinion, Director Glenn R. Smith conspired with HR Director, Priscilla Pena-Johnson (PPJ), and Deputy Director of Operations, Laura Feight, to punish and retaliate against me for my association with the union grievance. PPJ didn't like me. At an official proceeding, she claimed I was the "worst" employee with whom she had ever worked. Evaluations from my supervisors, WCA stakeholdes, and my work performance do not support her opinion. It appeared to me she spent more time drinking coffee and smoking cigarettes than performing her assigned duties. How frustrating it must be to taxpayers when they learn about abuse of power and position. They work for a living!
From: Pena-Johnson, Priscilla, WCA
Sent: Wednesday, September 29, 2010 12:13 PM
To: Goold, Scott, WCA; Bjarke, Jeffrey, WCA

Subject: RE: website updates

Can we do 8:30? I am still on my first cup and haven't had my first cigarette at 8:00! Yes to 8:30? Janet's office? (Janet is out tomorrow.)

Priscilla Pena-Johnson, HR Manager
Phone: 841-6013
Fax: 841-6804
Priscilla.Pena-Johnson@state.nm.us
Workers' Compensation Administration
PPJ confirmed to me that the handwriting on the June 4th document (download) is hers. She wrote, "I sent this to Sandy @ SPO (Sandra Perez, State Personnel Director) & Roberta B (Baca, WCA General Counsel).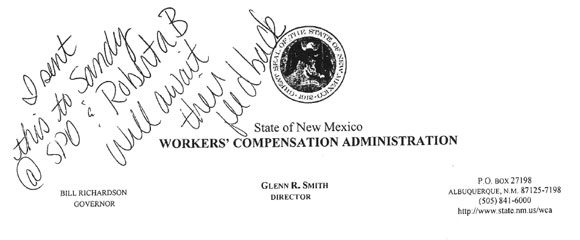 "Behind every sexual harasser likely stands a woman willing to excuse, cover up or feel sorry for him"
Both PPJ and Ms. Feight spoke to me in person around May 2009 demanding me to stop assisting my coworkers and unwind my relationship with the union. I had earned a promotion to Advanced Economist that groomed me for a supervisory role. If the WCA selected me as the supervisor, I would have automatically been excluded from the union. They had the freedom and power to end my association. I requested the promotion. Instead they wanted to force me to drop the grievance. To me the three were complicit in a massive deception involving the Department of Finance & Administration and State Personnel Office.

The State of New Mexico maintained a hiring freeze in 2009 and changes were complex. Director Smith wrote to Ms. Miller and Ms. Perez, stating, "Mr. Scott Goold accepted a promotion to a position deemed by the agency to be a confidential position as outlined in the PEBA." (download) This was false. The position was only "confidential" in the supervisory capacity. Smith admitted the "agency decided to post the vacancy for the third time without the supervisory duties."

Director Smith tried to force the union, CWA, to accept the agency's interpretation of "classified" status. The union correctly refused. As such Smith claimed the agency needed to re-organize the bureau. He cited Article 5, Section 1.A. of the Agreement between the State of New Mexico and union, the "sole and exclusive rights of management shall include the following: A. direct the work of, hire, promise, assign, evaluate, transfer ..."

Article 5 allows the agency to assign work they want to me or any employee. Director Smith deceptively claimed the agency needed to transfer me to another position — a non-supervisory track position — although the agency simply could have assigned me new tasks and responsibilities. They wanted me out of the supervisor track because I was furthering a grievance. Director Smith and the agency did not inform me of these illegal employment gymnastics. "Mr. Goold will be advised of this transfer as soon as it is approved by both DFA and SPO." Director Smith and Priscilla Pena-Johnson wrote in September 2008 regarding my hiring:
This position is critical to the bureau and the agency in that it will advise management on various Workers compensation policy issues concerning data collection, analysis, obtaining information and providing information for legislative topics. It will provide assistance and advice on bill analysis and will provide guidance to the Director or GC on legislative responses. This position will be involved with the legislative pricing of the farm-Workers bill, medical fee schedule impacts, changes to PPD and TTD benefit along with analysis of Attorney fee changes. This position will also act as the policy advisor to the director when the economist bureau chief is unavailable.

The policy analyses affect the agency through relationships the WCA has with insurers, employers, workers, attorneys and physicians. This policy analysis also affects the outcomes of legislation determined by policy-makers like the worker's compensation advisory council. This is a critical policy position to the agency. Because of these responsibilities and the qualifications of the candidate, I recommend a l5% increase to place the candidate appropriately in the pay band. This has also been a difficult recruitment; this was the 3rd posting of this position.
Director Smith and Priscilla Pena-Johnson summarized my qualifications at the time as:
Mr. Goold has a Master's degree in Public Administration and a B.S. degree in Economics. He is also a candidate in Ph.D. Political Science program at the University of New Mexico. Mr. Goold has over 9 years experience in the data collection, statistical analysis arena. He also has extensive experience in report writing and is experience using SPSS software, Excel and other databases.

His strongest skills are that his technical skills — ability to manipulate data, skills using databases and datasets and his understanding of web based programs. He exceeds the requirements of the position and has a thorough understanding of the WCA and what we do. (download)
The WCA denied my further attempts to become the supervisor. They hired Jeffrey Bjarke. I had more experience at the agency — about three years to his one year. I had more experience as a supervisor. And, it was reported to me later Mr. Bjarke didn't meet the REQUIRED educational attainment for the position. The WCA demanded an Advanced Economist have a "Graduate degree in Public Policy, Public Administration, Business, Economics or Statistics." (download) In their previous job posting that included the supervisory role, the agency demanded, a "Master's degree in one of the following fields of study is required for this position: Business, Economics and/or Statistics." (download) Mr. Bjarke had not earned his graduate degree by the time of hire.

I earned my promotion. I had earned the right to be a supervisor. This would have opened opportunity to be Bureau Chief and veteran staff encouraged me (download). Smith wrote, "Mr. Mark Llewellyn will be retiring from state government in the next two years. This supervisory position will stand in for Mr. Llewellyn while the agency fills his position." This is how hard Director Smith worked to keep me from helping women in New Mexico.
From: Farmer, Wayne, WCA
Sent: Wednesday, March 30, 2011 12:41 PM
To: Goold, Scott, WCA

Subject: RE: History on WC.

Thank you Scott, are you applying for Mark's old position [bureau chief]?

From: Goold, Scott, WCA
Sent: Wednesday, March 30, 2011 12:44 PM
To: Farmer, Wayne, WCA

Subject: RE: History on WC.

I did ... never know. : )

From: Farmer, Wayne, WCA
Sent: Wednesday, March 30, 2011 12:46 PM
To: Goold, Scott, WCA

Subject: RE: History on WC.

Good luck! I think you will do a great job in it, but I hate to loose you on the union representation.
Restricted to Desk
Shortly after this, WCA Director Ned S. Fuller ordered my supervisor to restrict me to my desk. They demanded I "sign out" each time I left — even to go to the bathroom or get a drink of water — as they didn't want me to assist any of my female coworkers. Nobody else in the agency was treated this way during the time I served the government agency. This is how intensely management worked to prevent women from being treated fairly and respectfully.
NOTE: My LinkedIn account recorded a contact from my former supervisor, Jeffrey Bjarke, around December 7th. Haven't heard from him in years. Apparently, this #MeToo article has attracted some attention.

Jeffrey Bjarke, Reviewed My LinkedIn Account
From: Bjarke, Jeffrey, WCA
Sent: Wednesday, August 17, 2011 2:47 PM
To: Goold, Scott, WCA
Cc: Adu-Asamoah, Richard, WCA

Subject: Our talk this afternoon

Hi Scott,
I'm sending this email to reiterate what we talked about a few minutes ago. Primarily, I need to know where you will be when you leave your desk. As we discussed, I will create a sign out sheet on which you can indicate your location if I am away from my desk. Also, we discussed that all union time will be logged subject to approval, to include phone calls.

I want you to know how much I appreciate your cooperation in this. I know that we will work together to make a better ERB [Economic Research Bureau] and a better WCA.

Thank you,
Jeff Bjarke, Economist
New Mexico Workers Compensation Administration
505.841.6073
Jeffrey.Bjarke@state.nm.us
More importantly, I was researching healthcare trends related to opioid prescription drug use. I petitioned the agency to allow me to train with Project Echo at the University of New Mexico in 2010. My supervisor, Mr. Bjarke, attended my graduation ceremony when Project Echo presented me with a CARS (Community Addiction Recovery Specialist) program certificate. (download) I completed advanced training in buprenorphine (Suboxone) addiction. (download) Through the Office of Continuing Medical Education, I certified in Integrated Addictions and Psychiatry. (download) And, completed additional buprenorphine (Suboxone) training in April 2013 — after the agency terminated me. (download) The American Tax Payer funded my training and work. From my experience, New Mexico governor, Susana Martinez, and WCA senior managers were not concerned about public health. They focused on shutting down workplace protections for women.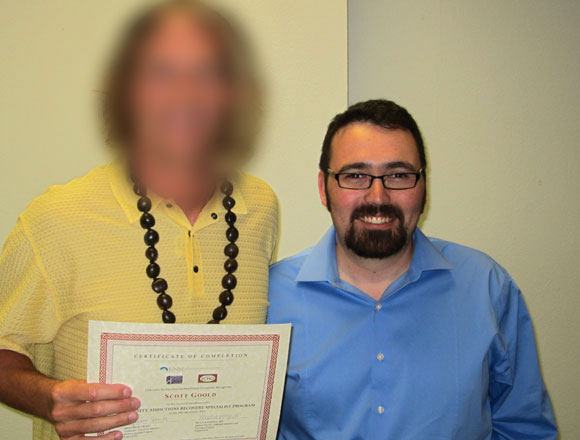 Goold (left) and supervisor, Jeffrey Bjarke, June 2011
I pioneered this critical program at the agency in 2010. In October 2017, President Trump "declared a nationwide public health emergency" to combat the opioid crisis. I took the professional initiative to focus on this epidemic seven years earlier. I am one of the first healthcare professionals in the US to recommend considering Medical Cannabis as an alternative to opioid prescription drugs. As we know still today, nobody has died from overdose of Medical Cannabis. In 2015 alone, the CDC estimates over 15,000 Americans died from overdose involving prescription opioids.

A November 2017 study conducted by researchers at the University of New Mexico, comparing medical cannabis and prescription opioid use among chronic pain patients, found a distinct connection between having the legal ability to use cannabis and significant reductions in opioid use. This is what my preliminary research suggested. (source)
New Mexico is, Dr. Jacob Miguel Vigil, associate professor, Department of Psychology notes, among the U.S. states hardest hit by the current opioid epidemic, although the number of opioid-related overdose deaths appears to have fallen in recent years, perhaps the result of increased enrollment in the NM Medical Cannabis Program, which currently includes more than 48,000 patients.
The emailed comments from my bureau chief in 2012 (below) highlight my expertise in this area.
From: Adu-Asamoah, Richard, WCA
Sent: Friday, November 09, 2012 12:02 PM
To: Dow, Thomas, WCA; Fuller, Ned, WCA
Cc: Adu-Asamoah, Richard, WCA; Goold, Scott, WCA

Subject: Research Presentation/Discussion on Opioids at WCA Meeting - Mr. Scott Goold

Importance: High

Good Morning Thomas,
Mr. Scott Goold made a very good presentation on opioids and pain management (dependency, abuse, and implications for the New Mexico Workers Compensation System) at the New Mexico Workers Compensation Association monthly breakfast meeting this morning. As discussed a few weeks ago, I joined Scott and Diana at the breakfast meeting.

The presentation was well-prepared, the delivery was excellent, and the subject matter was very well received.

The meeting also provided an opportunity for me to directly observe Mr. Goold interact with stakeholders outside the agency building. I was very happy with the results.The presentation had 40 slides providing a range of information for all stakeholders. The size of the presentation did not permit hard copies to be printed for meeting attendees. Instead, the following URL

http://www.wcasubmit.org/docs/wca_11.09.12.pdf (download)

has been provided for interested parties to have access to the presentation and other information. Stakeholders interested in knowing more about the presentation, and the subject discussed, have been asked to contact Scott.

Please let me know if you have questions. Thank you.

Richard Adu-Asamoah, Ph.D.
Bureau Chief, Economic Research Bureau
New Mexico Workers Compensation Administration
Ph: (505)841-6044; Fax: (505)841-6866
E-mail: Richard.Adu-Asamoah@state.nm.us
Denied Research and Professional Training
Although agency officials praised me and the healthcare community respected my research, I had to put up with bullying from management that appeared focused on intentionally frustrating my career rather than helping injured workers in New Mexico. I was told the WCA specifically hired Thomas E. Dow, Executive Deputy Director of Operations, to build a formal case to terminate my employment. Here's an example of his evil deception. (download)

On about December 6th, I requested to attend a Project Echo training scheduled for December 14th. The meeting took place during lunch. I attended on my "free time." Most importantly, I followed the agency's established procedure — exactly — to request permission to attend. After I had left work for the day on December 13th, my bureau chief, Richard Adu-Asamoah, Ph.D., sent the following email:
I have reviewed your request to attend the presentation on "Stigma of Addiction". The topic does not meet the requirements that I have used to evaluate approval for participation on behalf of the WCA i.e., the topic must have relevance to ongoing work at the agency and in Workers Compensation; the topic should have unique contribution to understanding current issues of debate in the New Mexico Workers Compensation system; and participation will not delay critical work at the Economic Research Bureau.

Your attendance at this presentation is not approved.
PhD Adu-Asamoah praised the talk I gave on November 9th, "The presentation was well-prepared, the delivery was excellent, and the subject matter was very well received." One slide (p9) discussed the "Stigma of Addiction." About a month later, the chief denied my request for additional training on this topic claiming the topic was not relevant.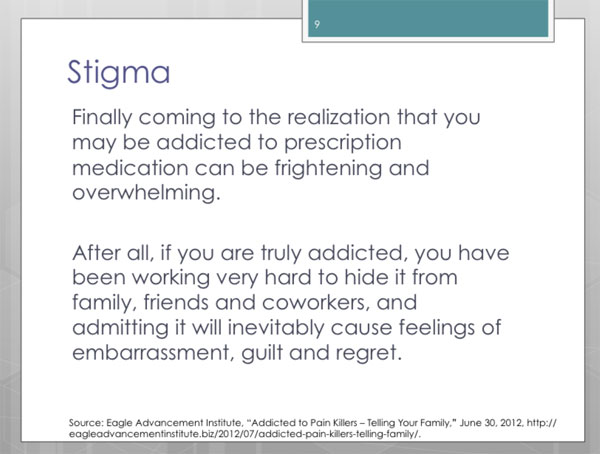 Richard Adu-Asamaoh Claims Stigma of Addiction Not Relevant
PhD Adu-Asamoah added, "Please prepare to make a presentation to Roger, Brenda and me on Friday, 12/14/2012 or Monday, 12/17/2012 (between 9:00 a.m. and 12:00 p.m.) on the AER data collection applications."

Although I was ready, available and willing both days and at all times, the meeting did not happen. It was a complete deception. I doubt there is a court or jury in the country that would believe PhD Adu-Asamoah's rational for denying my request for professional training. I include my response to the sophomoric chief below:
From: Goold, Scott, WCA
Sent: Friday, December 14, 2012 7:49 AM
To: Adu-Asamoah, Richard, WCA
Cc: Dow, Thomas, WCA

Subject: RE: IAP Clinic on Friday, Dec. 7th: "Medication to Prevent Relapse to Alcohol"

Good morning Richard ~
You say in your note that the issue of "Stigma of Addiction" does not appear to be of professional interest to you and the WCA at this time. You recently told Director Fuller and Mr. Dow that my presentation before the WCA of NM was "very good." Please see a copy of your comments below. I included a major section on Stigma of Addiction.

One individual approached me afterwards in tears. She thanked me for bringing up stigma, as she has suffered an addiction to prescription drugs. She said my words helped her put this matter in perspective and that she could now release some of her guilt and pain. She gave me the most sincere and heart-warming hug for talking about this issue.

As you are aware, the WCA of NM has requested I give my presentation, updated, at their May conference. I spoke with Dylan Shaw, current president of the WCA of NM (I believe), yesterday at the Advisory Council meeting. He reiterated how much they enjoyed my presentation and urged me to speak again in May. The issue of Stigma of Addiction would be a major part of that presentation.

You deny my request for more research and training in this area? I am stunned!

I am ready to meet with you, Roger, Brenda, Tom or whomever else you would like to include on both the Provider Fee Schedule and Annual Expenditure Data collection application. You pick. I am ready and at your disposal whenever you wish.
Thomas Dow, Executive Deputy Director of Operations, made about $100,000 per year. Apparently he was uninformed about the bureau's Request for Training procedures. As a deputy director, he seemed to be "all hat and no cows," as they say in rural New Mexico and professionally negligent in his official duties. Mr. Dow appeared to be looking to fire me, not further healthcare for injured workers in New Mexico. It is obvious to me now Governor Susana Martinez's team had committed to getting me out of the way.
Thomas E. Dow, Executive Deputy Director of Operations
From: Dow, Thomas, WCA
Sent: Friday, December 14, 2012 11:39 AM
To: Goold, Scott, WCA
Cc: Pena-Johnson, Priscilla, WCA

Subject: RE: IAP Clinic on Friday, Dec. 7th: "Medication to Prevent Relapse to Alcohol"

Scott,
I have reviewed the denial of your request for training to attend a discussion at UNM on the topic of Stigma of Addiction. While I understand you find it difficult to believe that the request was denied, I note that your request did not comply with agency procedure.

Requests for training should be made on the approved form and include (1) a description of the training program (2) a statement of how the training relates to the employee's job function and which strategic goal the knowledge or skill will support. The request should also include any course application or registration form completely filled out. Your request had none of this information.

Without a description of the training program and a statement of how the training will support your job function and agency goals neither your supervisor nor the HR office has the information needed to decide if the training is appropriate. If you had timely provided the information you put in your last email to Richard, it may have made a difference in the decision making process.

I find it unfortunate that you took the attitude and tone you did in your email to Richard. When your request for training does not comply with procedure and fails to provide the information by agency procedure, you should expect that the request will be denied.

If you are still interested in the training in January, please submit a request that complies with agency procedure.

Thomas E. Dow
Executive Deputy Director
NM Workers Compensation Administration
Thomas Dow, Executive Deputy Director of Operations, was wrong about the facts in this matter. His decision denying me professional training is an example of incompetence and professional negligence. Mr. Dow never apologized to me; never allowed me to attend the FREE training held during my lunch break. About a month later, he personally handed me termination papers and gloated as he escorted me from the building. I'm sure management toasted him for his mad skillz as a professional employer hit man.
From: Goold, Scott, WCA
Sent: Monday, December 17, 2012 9:26 AM
To: Adu-Asamoah, Richard, WCA
Cc: Dow, Thomas, WCA

Subject: RE: Training Requests

Morning Richard and Thomas ~
It is my opinion that nobody in our bureau, or throughout the agency, has problems following Request for Training policy. Yet on this matter I was following the directions of my supervisors. For doing exactly as I had been instructed, the agency punished me by denying my request to attend an important and FREE local training that is critical to my research and work. This special assignment is a written and stated component of my job, per my most recent employee evaluation document.

I understand management may have confusion in their ranks but I'm not clear why I was professionally punished. And, second, why was I then falsely and wrongly accused/criticized for my actions?

I would appreciate a follow up on this matter. Thank you in advance.

Scott
Director Fuller Terminates My Career
Regardless of my valuable contribution to injured workers and stakeholders in New Mexico workers compensation system, WCA Director, Ned S. Fuller, would fire me a second time in January 2013. The director fired me initially in October 2011 after I filed grievances on behalf of abused women and questioned his ethical behavior for failing to disclose the extent of statuatory violations in the agency's Healthcare Provider Fee Schedule.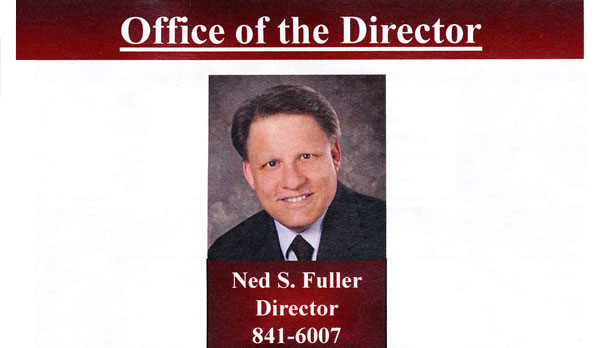 Ned S. Fuller, Director of Workers Compensation Administration
Healthcare Provider Fee Schedule Deception
Director Smith assigned me to direct the WCA Healthcare Provider Fee Schedule in 2009. After completing my first analysis following agency procedures, I reported to bureau chief, Mark Llewellyn, that nearly 6,000 of some 8,500 Current Procedural Terminology (CPT) codes were below the statuatory guidelines. This suggested healthcare providers were not being compensated as New Mexico law mandated.
"rates in the schedules of maximum charges shall not fall below the sixtieth percentile or above the eightieth percentile of current rates for health care providers."

NMSA (1978) 52-4-5: A.
Chief Llewellyn told me my calculations were in error. It was my first year so I accepted his response. During my second review of this project in 2010, I reported to the chief I had not in fact made errors — agency methodology was leaving thousands of CPT codes outside and below the statuatory mandated range. Llewellyn told me not to worry about it. He was retiring in a couple months and didn't want to address the issue. I mentioned this to my supervisor, Jeffrey Bjarke. He told me to follow Llewellyn's directive.
From: Goold, Scott, WCA
Sent: Monday, April 19, 2010 3:25 PM
To: Llewellyn, Mark, WCA
Cc: Bjarke, Jeffrey, WCA

Subject: HFS [Healthcare Fee Schedule] update

Hi Mark and Jeff ~
I wanted to update you on the HFS. I've completed all the state schedules, Medicare, and was able to complete Medicaid this weekend from home. I needed software I had there.

I've completed the regional analysis and have the 60th/80th figures we need. I began the basic analysis today. My first run suggests we will need to increase prices on 5,210 codes — and, I'm just comparing to the regional 60th. It will likely be more if I compare to MedCaid/MedCare. This doesn't seem consistent with past years. We may need to take a look at this.

Thanks!

Scott Goold, Advanced Economist
SEA-CWA Local 7076 Agency Vice President
Workers' Compensation Administration
State of New Mexico
(505) 841-6896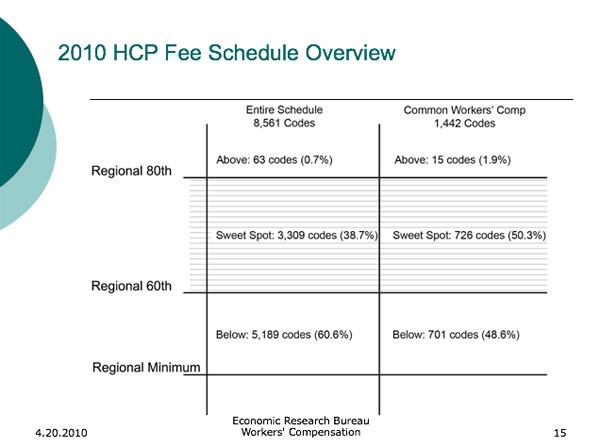 Statuatory Noncompliant Healthcare Provider Fee Schedule 2010
Chief Llewellyn and I disagreed on another major policy issue as well. When I arrived at the WCA, New Mexico did not extend workers compensation protection to farm and ranch workers. Llewellyn frequently expressed his "extreme conservative" views and supported the restriction. The legislature requested our bureau provide a Fiscal Impact Report (FIR) prior to the 2009 legislative session. Llewellyn did the analysis and the legislation stalled. The legislature again requested a FIR prior to the 2011 session. I worked with the NM Center on Law and Poverty (herein Center) to produce the analysis. My research was radically different from that provided by Llewellyn.

Comparing our reports led Center attorneys to claim Llewellyn had maliciously biased his results. Based on my research, the Center sued the agency and the NM Supreme Court ruled the Exclusion of Farm & Ranch Laborers to be unconstitutional in June 2016. (source) Both our analyses are now part of the public record. His report was professionally ridiculous! Teaming up with the Center, we were able to protect some 15,000 workers.
I worked the following year to update the agency Fee Schedule with my supervisor, and interim bureau chief, Jeff Bjarke. We briefed Director Fuller about the major violations in February 2011. There were some 8,700 CPT codes in the schedule. Nearly 6,000 fell below the 60th percentile — and outside New Mexico statute.

This is a serious concern. Aggregate workers compensation medical expenditures exceeded $171 MILLION in 2010. Our research suggested the Maximum Allowable Prices (MAP) providers were authorized to bill for services were understated approximately 33 percent. This suggested providers of New Mexico workers' compensation could be short-changed some $50 MILLION to $60 MILLION per year. Providers frequently complained workers compensation reimbursement rates were too low — particularly due to the additional paperwork and administrative costs. The WCA asked providers to accept these prices in Good Faith.

We recommended not only to fix this problem but also disclose the issue to the citizen oversight group, Medical Advisory Committee. Director Fuller agreed and tasked me to prepare the presentation. Minutes prior to my presentation before the MAC, Fuller directed me to pull all references to the lack of compliance and not inform the group.

Director Fuller also ordered me to modify language used in our public presentation and documents. In the WCA published "Changes List" for 2010, we used "Adj. Reg 60th Percentile" when we increased the price of a specific CPT code. For example, CPT 99201, which was priced at $50.87 in 2009, was increased to the Regional 60th Percentile of $51.61 in the proposed Changes List that the WCA released to the public. (download Changes 2010)
From: Bjarke, Jeffrey, WCA
Sent: Wednesday, August 24, 2011 1:46 PM
To: Goold, Scott, WCA; Adu-Asamoah, Richard, WCA

Subject: Change list wording

Hi Scott,
Richard and I spoke about the wording of the change list and he has decided on the following wording:
For codes Over 80th: "Above 80th, moved down"
For codes under 60th: "Below 60th, moved up"

That way the wording will be the same for any code under the 60th regardless of how much it is moved up.

Jeff Bjarke, Supervisor
New Mexico Workers Compensation Administration
505.841.6073
Jeffrey.Bjarke@state.nm.us
Due to the trickery, the director required us to use alternative language in 2011. In this annual version, for example, CPT 99201, which lists the 2010 price of $51.61, was "Adjusted Upward" to $54.45 — but not to the Regional 60th Percentile, although our stated methodology, and the statutory requirement, was to move CPTs to the Regional 60th Percentile. In my opinion, Director Fuller failed to disclose this ethically to the public. (download Changes 2011)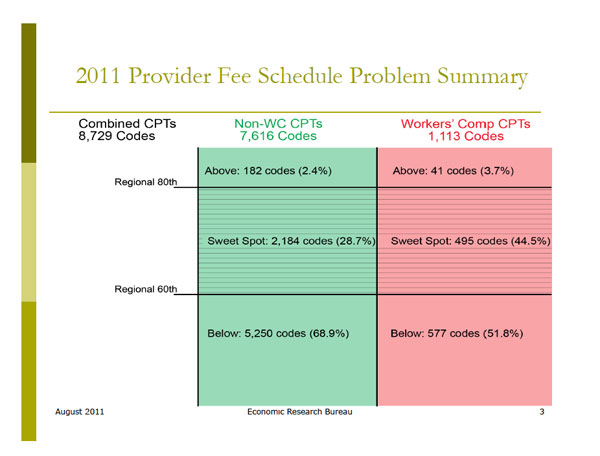 Statuatory Noncompliant Healthcare Provider Fee Schedule 2011
In January 2012 Director Fuller reported to the Advisory Council, "A statute requirement for CPT codes is that they are priced at the 60 to 80 percentile level. The WCA is looking at regional pricing and finding a number of codes needed and still need to be adjusted but we are taking this slowly to reduce the impact on the system."

Director Fuller's Deceptive Behavior with Healthcare Provider Fee Schedule
Director Fuller did not fully disclose the scope of the violation in his director's order for 2012 (download Director Order). His actions in my opinion were highly deceptive. Of some 8,729 CPT codes, there were about 5,200 below the regional 60th percentile. He told council attendees there were a "number of codes" in need of adjustment. I doubt anyone in the audience believed he was referencing over 5,800 CPT codes.
Fighting for my Coworkers
Earlier I shared details about my efforts to assist female legal secretaries and paralegals, as well as women in the Employer Compliance bureau. In June 2011 I successfully recommended bonuses be awarded to the female staff in the Clerk of the Court and Records bureaus. (download Request) The employees I nominated included staff and their "outstanding manager."
Joan Calcutt
Annette Griego
Kyley Hernandez
Mary Salazar
Trudy Sisneros
Celilia Spinks
Dana Chavez, Outstanding Manager

From: Doucette, Robert, WCA
Sent: Tuesday, June 07, 2011 10:56 AM
To: Goold, Scott, WCA

Subject: RE: Recommendation for Bonus

Scott,
Thank you for your leadership and I will look into this for you and will get back with you ASAP.

Robert Doucette
During my tenure with Director Fuller, I also stood with a number of women when the agency threatened termination. For example, around February 2011, my female coworker received a Notice of Contemplated Separation, which is a termination letter, claiming she was physically unable to perform her inspection duties. She had been injured on the job about five years earlier. An accident crushed her ankle. She battled heroically through rehab and was doing well. Manager McCrea and Director Fuller planned to fire her. My research as her union representative found no factual basis for the determination and concluded the action "unreasonably threatened an individual with loss of employment and was in extremely poor professional judgment." (download Conclusion page)
"In calendar years 2008, 2009 and 2010, EMPLOYEE conducted high numbers of complete and thorough safety inspections — evidence the Agency considered her sufficiently "medically released" for work. Neither EMPLOYEE nor MANAGERS restricted safety inspections in any manner. For three years, EMPLOYEE successfully and fully performed her safety consultant duties.

During this time, Manager McCrea did not once accompany, observe or review EMPLOYEE during the implementation of a safety inspection."
Manager McCrea, in my opinion, was negligent in his professional responsibilities; the action was personal. He was exercising abusive power over a weaker subordinant employee. Manager McCrea was visibly hostile toward me after this. I recommended the manager be disciplined. It's my belief Director Fuller did nothing.

Together, this STRONG woman and I SAVED A JOB; we SAVED A FAMILY!

Manager McCrea and his designated supervisor, Stella Baca, in the WCA Las Cruces field office were abusive with many female employees. Competent professionals, such as Olga Korzan, simply quit due to the opprobrious conditions. This was a tremendous waste of taxpayer training resources. By summer end 2011 conditions in the field office had deteriorated to the point of collapse. Freda L. Coalson, PhD Psychologist, concluded one of the female employees faced a "hostile work environment." (download report) She warned my coworker:
"Now you are in a terrible situation in which you have to either file a grievance against your bosses, or face the likelihood of losing your job because of an "insubordinate, inefficient or incompetent action on your part. I know you are hesitant to file a grievance but I believe you have little choice at this point if you want to keep your job."
We filed a grievance against Manager Baca in early September. Due to our action, the manager corrected her behavior and ended the abusive treatment of her subordinate. When I spoke with my female coworker a couple months later, she reported that she and Manager Baca had become friends. They enjoyed collaborating again. They laughed, smiled, sang and did fantastic work together. The office group returned to high efficiency.

Together, this STRONG woman and I SAVED A JOB; we SAVED A FAMILY!

As a union leader, I tried to avoid official complaints and grievances. The federal government had trained me as a mediator in 2007. I felt informal discussions could be highly effective. The threat of a complaint or grievance generally brought parties to the table in good faith. And in many cases, the outcome was amazing!
From: [Female Employee], WCA
Sent: Friday, August 26, 2011 3:09 PM
To: Goold, Scott, WCA

Subject: RE: hi

I COULD NOT HAVE DONE THIS WITHOUT YOU. I AM SO GRATEFUL FOR YOU.

THANK YOU SO MUCH. A WEIGHT HAS BEEN LIFTED THANKS TO YOU.

GOD BLESS YOU ALWAYS.

[name withheld]

[name and title withheld]
State Of NM Workers' Compensation Adminsitration
PO Box 27198
Albuquerque, NM 87125-7198
www.workerscomp.state.nm.us
Together, this STRONG woman and I SAVED A JOB; we SAVED A FAMILY!

Sometimes my work help "smooth" working relations between female staff and their managers. When they didn't feel comfortable bringing up concerns, I did took action behind the scenes. In this example, I defended management action, yet made it clear to my coworker someone was paying attention. This gave employees confidence that they had a voice. Director Fuller, for example, didn't respect these contributions.
From: [Female Employee], WCA
Sent: Tuesday, June 07, 2011 10:59 AM
To: Goold, Scott, WCA

Subject: RE: email

Thank you Scott for all of your help & concern, it is greatly appreciated!

-----Original Message-----
From: Goold, Scott, WCA
Sent: Tuesday, June 07, 2011 10:53 AM
To: [Female Employee], WCA

Subject: email

Morning [name withheld] ~
Hope you're off to a great day! I had a good talk with Robert [Robert E. Doucette, Executive Deputy Director, Support Services] today about your concerns — of course, I didn't mention any names — we just discussed office policy.

Robert didn't instruct his managers to demand the email. But he left it open for managers to decide how best to accomplish his directive. He wants to avoid being a micro manager, which we all appreciate. He doesn't support this "interpretation" and recognizes his policy is a work in progress. He will talk to Mac about this and we both hope they can find a better way to meet their needs.

Give it a few days. We should see some changes next week. I didn't want this to look like a union request — as this gets dander up around here. Instead, we want it to look like management is simply fine tuning their policy.

Keep me posted and hopefully things will "warm" up a bit down there!

In unity ...
Scott

Scott Goold, Advanced Economist
SEA-CWA Local 7076 Agency Vice President
Workers' Compensation Administration
State of New Mexico
(505) 841-6896
Sometimes my action helped female colleagues receive duty assignments that they enjoyed and where they were proficient so they could succeed for themselves, the agency and the public we served.
From: [Female Employee], WCA
Sent: Thursday, August 25, 2011 6:52 AM
To: Goold, Scott, WCA

Subject: RE: New Compliance Officers

Oh, thank you Sharkbait! CHOMP, CHOMP! You're so sweet!

Yeah, I'm back where I belong! WooHoo!!
Thanks for your support. I couldn't have done it without your guidance, advice and expertise.

Kookbait

-----Original Message-----
From: Goold, Scott, WCA
Sent: Wednesday, August 24, 2011 3:32 PM
To: [Female Employee], WCA

Subject: New Compliance Officers

Congrats [name withheld]!!!!!
I'm so proud of you. Your perseverance has paid off! Your work is exceptional and we all love the energy you bring to the WCA. I'm so glad you're back where you belong yet in a position you deserve!
My success improving employee relations and creating a more fair workplace didn't matter to Director Fuller. He and his army of managers built a complex and voluminous case against me. They frog marched me from the agency in front of coworkers on about October 6, 2011, in a victory parade of power. The director denied my appeal against the action and officially terminated me on October 28, 2011. I filed a complaint with the EEOC:
"I believe I was retaliated against due to association by reported protected activity on behalf of others, in violation of Title Vll of the Civil Rights Act of 1964, as amended."
A stressful and vicious dispute continued for nearly half a year, while our family strugged to cope with tremendous insecurity and uncertainty. Beat up and bloodied, the EEOC returned me to duty at the WCA. My coworkers were overjoyed, as I had returned from the dead. Director Fuller appeared openly embarassed and humiliated.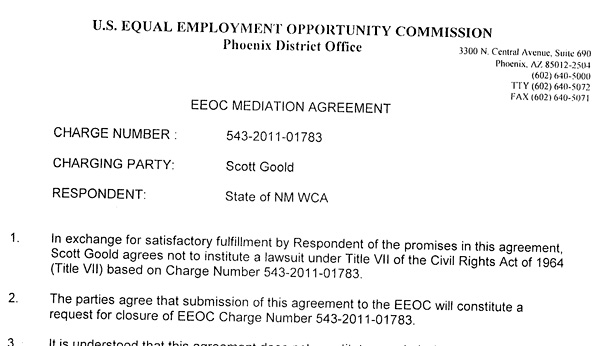 EEOC Mediation Agreement
Months later the agency's privileged and powerful men and women finally won their battle against me. My career was over. Taxpayers had invested hundreds of thousands of dollars in my training ... TRASHED ... I had excelled at each job and assignment. Directors Glenn R. Smith and Ned S. Fuller sent a clear message to all workers — those who stand will not stay!
Americans wonder why women and People of Color continue to be treated like second class citizens. This is one example. For joining the union, I was professionally beat down for years. My career was destroyed. Lesson for others — dare not get involved. The abusive and retaliatory action chills activism. White Privileged Men like Glenn R. Smith, Thomas E. Dow, Ned S. Fuller trample people who stand up to end abusive and inappropriate behavior. Privileged Women like Laura Feight and Priscilla Pena-Johnson easily partner with them. Apparently their lust for power overwhelms their sense of justice — even when the people they harm are women and People of Color like themselves.

Not only women suffer tragically in this intimidating and vulgar environment across America — so do many men who partner with them to demand needed change. This is the history of Glenn R. Smith, Thomas E. Dow, Ned S. Fuller at the Workers Compensation Administration as I witnessed it. I am publishing this story in solidarity with other #MeToo victims.
---
KEY WORDS: State of New Mexico, Workers Compensation Administration, sexual harassment, workplace bullying, opioids, opioid epidemic, Glenn R. Smith, Priscilla Pena-Johnson, Laura Feight, Jeffrey Bjarke, Richard Adu-Asamoah, Thomas E. Dow, Ned S. Fuller, Project Echo